Health institutions
Hera-MI is in collaboration with medical imaging centers specializing in senology, such as the SIMSE (Medical imaging society Strasbourg Europe) and IMBN (Medical Imaging Bordeaux Nord). These collaborations aim to enrich the volume of data on which Hera-MI's software learns and to validate it clinically.



Hera-MI is also in discussion with several European and American reference sites in order to incorporate Artificial Intelligence technology taking into account the diversity of patient populations.
Scientific collaboration with the laboratory LS2N
Hera-MI signed a scientific collaboration with LS2N, which is part of Ecole Centrale de Nantes. This collaboration has been made through a CIFRE thesis on which Mickael Tardy, Scientific director at Hera-MI, worked. Mickael Tardy's Thesis Chair was Professor Diana Mateus, an expert in the Artificial Intelligence field.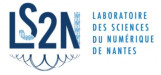 Centrale-Audencia-ENSA Incubator
Hera-MI has concluded a contract with the Centrale-Audencia-ENSA incubator enabling us to be hosted in École Centrale de Nantes offices and benefit from several services offered by the incubator. Among these services, we have privileged access to the expertise of the research laboratories such as the LS2N, and to the powerful supercomputer dedicated to AI. This supercomputer is the largest in the region.