Industrial and software publishers
MEDECOM
In April 2022, MEDECOM, medical imaging software publisher, and Hera-MI signed à 100% french partnership. The agreement concerns a multimodality diagnostic workstation (Med Mammo) associated with Breast-SlimView®, our patented AI-based clinical decision support system for 2D and 3D mammography.
Fujifilm 
Fujifilm distributes in France, as well as overseas, Breast-SlimView® which is integrated into its mammography equipment (mammograph and interpretation console). By combining the AI software solution of Hera-MI with Fujifilm equipment, lots of radiologists and patients will benefit from both partners' innovative synergy.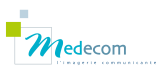 Central purchasing agencies
The GAIM
First french central purchasing agency in medical imaging.
UGAP
The only generalist public central purchasing agency , 100% dedicated to public purchasing.
UniHA
Cooperative of French public hospital buyers.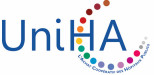 If you wish to become our partner, do not hesitate to contact us.